We are thrilled with how the new Balloon Cups turned out.  We are confident that this will become the new cup for after flight balloon celebrations all over the U.S.  Thank you goes out to the pilots who helped make this a reality.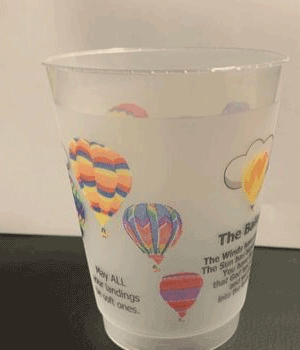 We have our new custom "Balloon Cups" in production.  We expect delivery in just a few weeks.  Sales are happening at a quick pace.  Get your order in before the first batch is out of stock!

  ORDER TODAY!
ON the left is the artwork we prepared for the cup.  ON the right is the artwork proof returned to us from the cup graphic design department.
Balloon Cups can be ordered in many quantities.  A minimum order is two sleeves (50 cups)   You may order by the Case (500 cups), Half Case (250 cups), Quarter Case (125 cups), Fifth Case (100 cups), and Tenth Case (50 cups).  As you order more cups the price per cup is discounted.  A case of cups reduces the cup price down to 55 cents per cup.  These cups are washable and re-usable.  They also make a very inexpensive souvenir for balloon passengers.